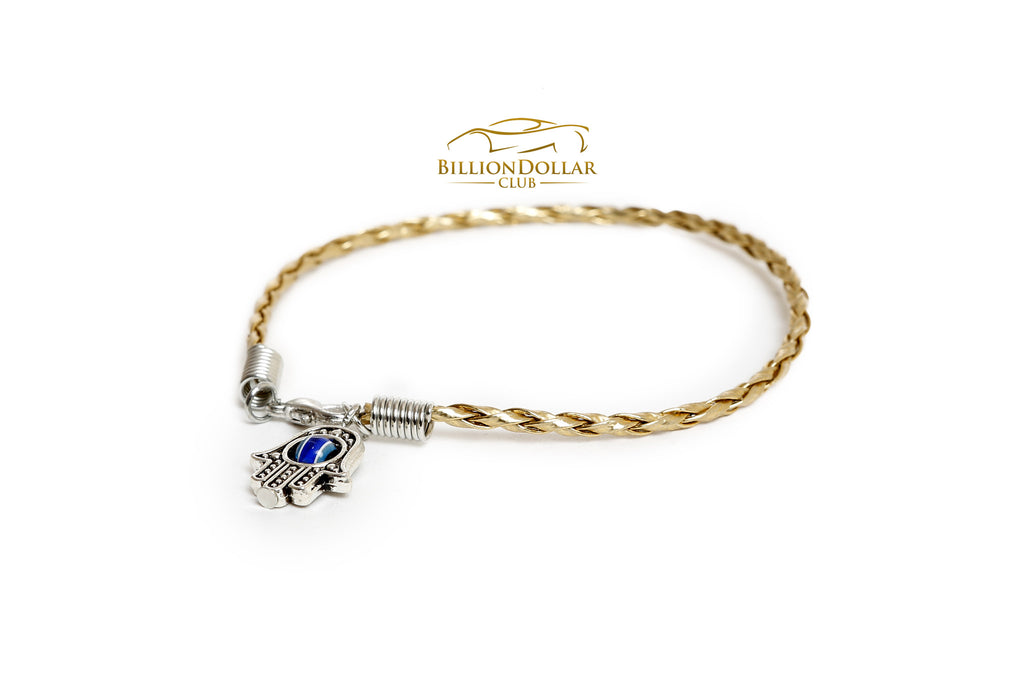 All time classy Hamsa Hand with Eye Bracelet
The Hamsa Hand is an ancient Middle Eastern amulet symbolizing the "Hand of God".
In all faiths it is a protective sign. It brings it's owner happiness, luck, health, and good fortune. This simple bracelet also contain an eye symbol, which is a "powerful talisman against the evil eye"
The evil eye is thought of as a look given to inflict harm, suffering, or some form of bad luck on those that it is cast upon. It is a look which clearly states that one intends for something bad to happen to the object of one's focus, either out of jealousy or pure malice. The superstition of the evil eye holds that the malicious look is powerful enough to bring about actual disaster for the unfortunate person that is the receiver of the glare.
This combination is believed to give the wearer success, harmony, and protection from that Evil Eye. It was commonly given to babies as presents after birth. 
Its effectiveness has motivated a lot of people to tattoo themselves with the Hamsa hand and the all powerful Eye. 
A perfect gift for your loved one. 
Very Limited Pieces, Don't Miss out - One Size for ALL

Many colours available - Dont forget to check out our other listings
---
Share this Product
---
More from this collection